Shopping Cart
Your Cart is Empty
There was an error with PayPal
Click here to try again
Thank you for your business!
You should be receiving an order confirmation from Paypal shortly.
Exit Shopping Cart
Perfect flowers for any occasion.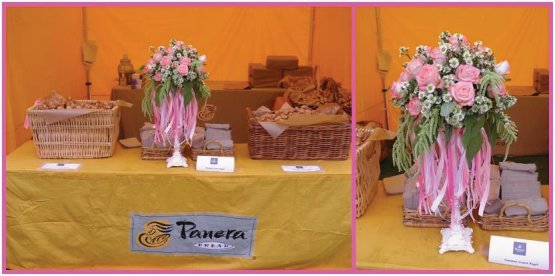 •susan g komen panera bread sample tent 2013•
This past weekend I had the opportunity to assist Panera in their annual sponsorship of the Susan G Komen walk down at Balboa Park. It is always nice to go back and help out each year. While my main purpose for this event is to help coordinate the baking of over 10, 000 bagel samples and distribute them to hungry walkers on race day, for the last three years I have donated a floral arrangement for display at the their sampling booth. Since we are working with limited table space at the booth each year I tried to make a piece that took up little room at the base and still created a presence at the table. I incorporated the signature color in the hanging pink ribbon and pink roses. Below are photos from the 2011 and 2012 races (from left to right): 


On September 15th Rose City Church in Pasadena, Ca celebrated it's 2nd year! My best friend's husband, Dan Davidson, is the pastor of the church. In the flurry to plan the celebration, all I was told was that Rose City currently had green displayed in the church, that the table piece shouldn't be any higher then 2 ft, and that they needed a few centerpieces. I created a piece for the communion table and four centerpieces. When I arrived to the church I was delighted to find that they had exactly 4 dining tables set up, the communion table arrangement was the perfect height and balanced the cross on the left side, and Pastor Dan was wearing a yellow, green, and blue plaid shirt that morning. Everything tied in perfectly. The big man upstairs must have been looking out for us. Only thing that I wasn't expecting that day was the pink table clothes, but yellow and white are pretty nuetral colors and match most things. I think is worked.


/